Hemangioma
HEMANGIOMA (also known as CHERRY ANGIOMA)
Adult onset hemangiomas are benign clusters of dilated blood vessels. They range from bright red to purple, often with a smooth surface appearance. They occurs most commonly on the torso; however, a hemangioma can develop anywhere on the body. Individuals may develop a few to hundreds of them.

Electrocautery (electric heated needle tip) or laser treatments can successfully remove these spots.
Example of Hemangioma & Treatment Results

(Photo Above: common location of cherry angioma on the nose)

(Photo Above: after one treatment with intense pulsed light)
Example of Hemangiomas on Torso

(Photo Above: hundreds of cherry angiomas on torso)
Example of Hemangioma under Microscope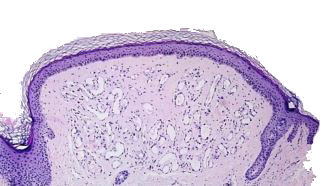 Collection of small benign extra blood vessels just underneath the skin surface