Intense Pulsed Light Photorejuvenation (IPL)
What is Intense Pulsed Light?
Intense Pulsed Light (IPL) machines are high energy devices utilizing specific wavelengths of visible light and infrared waves to treat a wide variety of skin changes, including sun spots, facial and body blood vessels, rosacea redness, hair removal, photodamage, melasma, acne, and sometimes, pore size.
| | |
| --- | --- |
| | After One Multilevel Combination IPL |
*actual patient case of Dr. Liu©
| | |
| --- | --- |
| | Sun Spots-Asian Skin After Two IPL Sessions |
*actual patient case of Dr. Liu©
| | |
| --- | --- |
| | Left Forearm Pigmentation, After Two IPL Sessions |
*actual patient case of Dr. Liu©
| | |
| --- | --- |
| | Forearms Sun Damage After One Session with Alma Smooth Dye-SVL IPL Technique |
*actual patient case of Dr. Liu©
| | |
| --- | --- |
| | Angioma (Blood Vessel) After One IPL |
*actual patient case of Dr. Liu©
| | |
| --- | --- |
| | Diffuse Telangiectasias (Blood vessels), After One IPL |
*actual patient case of Dr. Liu©
| | |
| --- | --- |
| | Port-wine Stain (Blood Vessel Birthmark), After One IPL |
*actual patient case of Dr. Liu©
| | |
| --- | --- |
| | Vessels Side of Nose, After One IPL |
*actual patient case of Dr. Liu©
Dr. Liu Treating Telangiectasias (Blood Vessels) Video
Dr. Liu on the Doctors Show Treating Skin Redness from Acne Using Palomar ICON
Dr. Liu on the Doctors Show Treating Solar Lentigos on the Hands Using Palomar ICON
Before and Afters of Patient from Video Above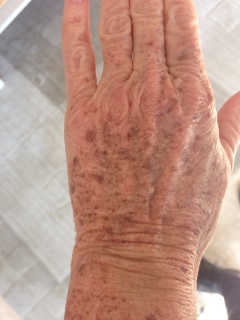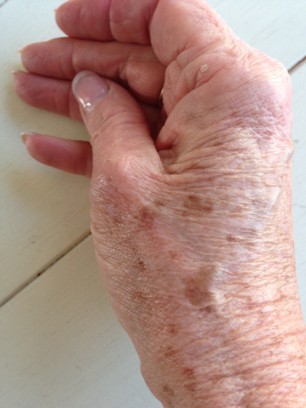 Before
| | | |
| --- | --- | --- |
| | | After Two IPL Sessions |
*actual patient case of Dr. Liu©
Dr. Liu on the Doctors Show Performing Hair Removal to Relieve Ingrown Hairs Using Palomar ICON
How is IPL different than laser?
The definition of laser is a focused beam of electromagnetic energy from a single wavelength. In contrast, IPL devices use a broad range of light waves. The high energy levels of the IPL devices yield comparable results to laser devices. Favorable characteristics of IPL include the ability to treat multiple skin targets and large areas of skin with one device. An example would be the Palomar ICON MaxG Head, which successfully removes sun spots, removes blood vessels, and improves skin texture. Dr. Liu uses both IPL and laser devices in his cosmetic practice.
Which IPL device does Dr. Liu have?
Dr. Liu has the Palomar ICON Aesthetic System. The ICON combines a powerful energy source with multiple treatment heads to achieve successful treatment of many skin conditions.
What can I expect on the day of the treatment?
After reviewing and signing the consent forms, topical numbing cream may be applied to the treatment area (sometimes numbing is not necessary). Then, protective eye shields will be gently placed over your eyes. The treatment comprises of quick pulses of energy delivered approximately every 1-2 seconds. You may notice a flash of light even with the eye shields on, which is small amounts of harmless light scatter. After the procedure, a topical cortisone cream, sunscreen, and/or aloe vera gel may be applied.
ICON IPL is a well tolerated procedure often referred to as a "lunch hour" procedure because you can often return to regular daily activity immediately after the procedure.
Does it hurt?
Most people report little to no discomfort.
What can I expect after the treatment?
Mild redness may develop, subsiding within minutes to hours. Sun spots may initially darken, then gradually fade or peel over the next few days. Bruising does not develop from ICON IPL. In fact, blood vessels often disappear immediately after the procedure. The skin has not been resurfaced; therefore sunscreen and cover-up can be used immediately.
How do I prepare for the procedure?
Inform Dr. Liu of all topical and oral medicines you use. Certain medications, such as retinoids and antibiotics, may cause sun sensitivity. Dr. Liu will advise you to discontinued any medications prior to treatment. It is also advised to minimize tanning on treatment areas prior to your sessions.
What should I do after the procedure?
Avoid direct sun exposure on the treatment area for at least a week. Wear sunscreen daily. Make-up use after the procedure is acceptable. You can continue your basic skin care. Discontinue facial scrubs or exfoliating products for 48 hours after the procedure.
Who performs the procedure?
Dr. Liu almost always performs the procedure. On occasion, he will have a nurse practitioner or physician assistant perform the procedure under his direct guidance.
What should not happen?
You should not experience pain, discomfort, blistering, or sensitivity to touch after the procedure. If you do, please contact Dr. Liu immediately.